UCC: Resit Timetable For Second Semester Exams For 2021-2022 Academic Year
UCC: Resit Timetable For Second Semester Exams For 2021-2022 Academic Year
The management of University of Cape Coast (UCC), School of Educational Development and outreach Institutes of Education has release the resit Centres and timetable for the second semester examination of the 2018 year group for the institute for the 2021-2022 academic year.
The timetable contain list of courses and the dates schedule for the examination and their respective time.
Candidates who have resit papers for the said year group and academic year can see below the full timetable and act accordingly.
The students taking the res it examination are required to pay GHC 120 per paper at any of these Banks: GCB Bank PLC, Prudential Bank and Zenith Bank using API. Payment must be made before 30th April, 2023. The payment slip(s) will be inspected before the start of each paper.
Kindly share the above information on the payment, resit centres and the time-tables with the students concerned.
See below the Various Programme at the Institute with their Time schedule for the examination. 
Four Year Bachelor of Education (B.E.D) JHS Programme
Four Year Bachelor of Education (B.E.D) Primary Education Programme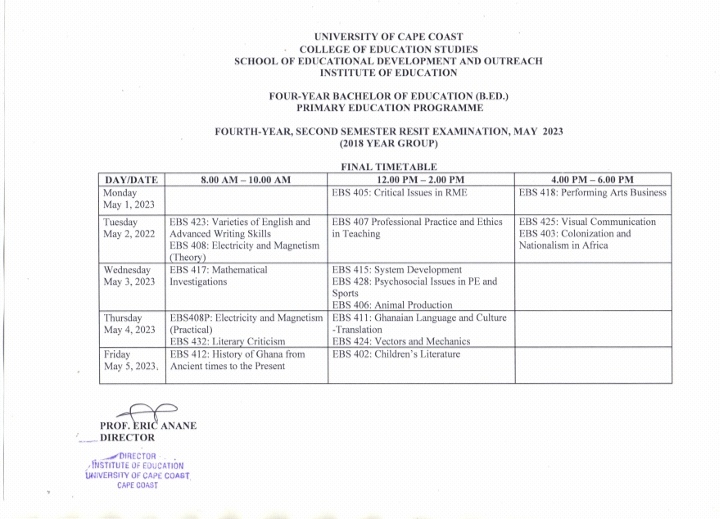 Four Year Bachelor of Education (B.E.D) Early Childhood  Education Programme
UCC: Resit Timetable For Second Semester Exams For 2021-2022 Academic Year
LEVEL 400 SECOND SEMESTER RESIT EXAMINATION, MAY 2023 (2018 YEAR GROUP) MAY  1 ST TO 5TH 2023 RESIT CENTRES
RESIT CENTRE ONE: BAGABAGA CoE, TAMALE
BAGABAGA COLLEGE OF EDUCATION – TAMALE
E. P. COLLEGE OF EDUCATION, BIMBILLA
GAMBAGA COLLEGE OF EDUCATION – GAMBAGA
GBEWAA COLLEGE OF EDUCATION – PUSIGA
MCCOY COLLEGE OFEDUCA TION,NADOWLI
N. J AHMADIYYA COLLEGE OF EDUCATION – WA
ST VINCENT COLLEGE OF EDUCATION – YENDI
ST. JOHN BOSCO'S COLLEGE OF EDUCATION – NA VRONGO
TAMALE COLLEGE OF EDUCATION – TAMALE
TUMU COLLEGE OF EDUCATION – TUMU
RESIT CENTRE TWO: OLA CoE, CAPE COAST
OLA COLLEGE OF EDUCATION – CAPE COAST ·2. FOSO COLLEGE OF EDUCATION – FOSO
KOMENDA COLLEGE OF EDUCATION – KOMENDA
HOLY CHILD COLLEGE OF EDUCATION – TAKORADI
METHODIST COLLEGE OF EDUCATION – AKYEM ASENE-ABOABO, ODA
RESIT CENTRE THREE: ACCRA CoE, – ACCRA, MEDINA
ACCRA COLLEGE OF EDUCATION – ACCRA
ADA COLLEGE OF EDUCATION – ADA
AKATSI COLLEGE OF EDUCATION – AKATSI
DAMBAI COLLEGE OF EDUCATION – DAMBAI
S. E. P. COLLEGE OF EDUCATION, AMEDZOFE
HOLY SPIRIT COLLEGE OF EDUCATION – HO
JASIKAN COLLEGE OF EDUCATION – JASIKAN
KIBI COLLEGE OF EDUCATION – KIBI
MOUNT MARY COLLEGE OF EDUCATION – SOMANY A
PEKI COLLEGE OF EDUCATION – PEKI
PRESBYTERIAN COLLEGE OF EDUCATION – AKROPONG-AKW APIM
PRESBYTERIAN WOMEN COLLEGE OF EDUCATION – ABURI
SDA COLLEGE OF EDUCATION, ASOKORE – KOFORIDUA
ST TERESA'S COLLEGE OF EDUCATION – HOHOE
ST. FRANCIS COLLEGE OF EDUCATION – HOHOE
RESIT CENTRE FOUR: WESLEY CoE, KUMASI
ABETIFI PRESBY COLLEGE OF EDUCATION – ABETIFI
AGOGO COLLEGE OF EDUCATION – AGOGO
AKROKERRI COLLEGE OF EDUCATION – AKROKERRI
AL FARUQ COLLEGE OF EDUCATION – WENCHI
ATEBUBU COLLEGE OF EDUCATION – ATEBUBU
BIA LAMPLIGHTER COLLEGE OF EDUCATION – DABISO
BEREKUM COLLEGE OF EDUCATION – BEREKUM
ENCHI COLLEGE OF EDUCATION – ENCHI
CHRIST THE TEACHER COLLEGE OF EDUCATION – KUMASI
MAMPONG TECHNICAL COLLEGE OF EDUCATION – MAMPONG 11. OFINSO COLLEGE OF EDUCATION – OFINSO
SDA COLLEGE OF EDUCATION, AGONA
ST AMBROSE COLLEGE OF EDUCATION – DORMAA AKW AMU 14. ST. JOSEPH COLLEGE OF EDUCATION – BECHEM
ST. LOUIS COLLEGE OF EDUCATION – KUMASI
ST. MONICA'S COLLEGE OF EDUCATION – MAMPONG 17. WESLEY COLLEGE OF EDUCATION – KUMASI
WIAWSO COLLEGE OF EDUCATION – WIAWSO
Related Posts:
Join Our Group For More Updates Via WHATSAPPS: Join Group Here